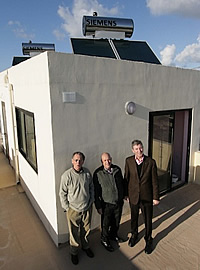 Rotary Club Malta has donated a solar powered water heating system to Dar il Wens at its new unit in Paola. Dar il Wens is a community home in Kalkara that caters for persons with intellectual disability.
Ian De Cesare, President of Rotary Club Malta (right), visited the home together with Club Vice President Adrian Strickland (left) and Secretary David De Giovanni. They were met by Dar il Wens's administrator Ronald Galea (centre) who thanked Rotary for their generous donation. Mr De Cesare said that Rotary will continue with projects of this nature which are both environmentally friendly and give continuous benefit to recipients of reduction to operational costs.
In line with Rotary Club Malta's policy of not just donating funds but also managing the project, Rotary Club Malta was involved in defining the technical needs, obtaining the quotations and ensuring the implementation of the project so as to maximise the benefit of the project to the home.
Information & Photo reproduced from Rotary Malta Website.
http://www.rotary.org.mt/web/rotary.nsf/pages/Dar-il-Wens